Edson House–Burton – Sleeps 4-8
This location provides a home of your own in the village of Burton.This two-story Victorian cottage overlooks Quartermaster Harbor.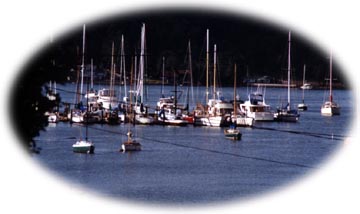 View of Inner Quartermaster Harbor from Edson House
Walk a block to the beach and collect sand dollars. Saunter along the dock at the marina across the street. Or better yet come by boat and tie up at the guest slip either at the marina or the yacht club. You can also catch the bus at the corner which will take you to the ferry for a day of exploring and shopping in Seattle or Tacoma.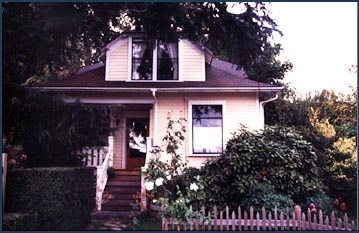 Upon entering you'll feel that you have gone back in time. Graced with cedar and fir woodwork plus turn of the century polished brass fixtures, this home is accented with oriental carpets and antique furnishings. Rent the upstairs and downstairs separately or together depending on your needs.
Edson Upstairs
– Sleeps four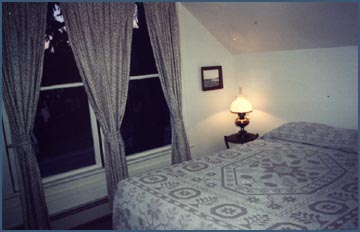 There are two bedrooms, both with queen beds. You're sure to enjoy the cozy sitting room with its wood-burning stove. In the bathroom (with shower), leaded windows frame the bell tower of Burton Church. The kitchenette includes a microwave, toaster oven, bar sink, refrigerator and coffee maker.
Edson Downstairs
– Sleeps four.
Features an East facing front porch. French doors divide the wainscoted Victorian living room with its bay windows, TV, sofa, stereo and plenty of books from the cozy breezeway where you'll find a wood burning stove.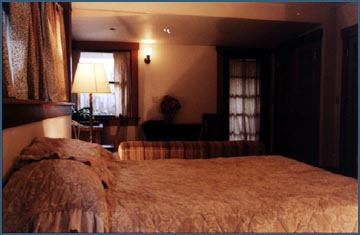 The full kitchen with its gas range, microwave, and refrigerator is adjacent to a family room/bedroom suite which contains a double sofa, and queensize bed. The bathroom features an oversized 5 1/2 foot claw foot tub, great for a romantic soak. Outside is a patio barbeque in a lovely fenced backyard.
For Information about Norman Edson's Life
Please check out the Vashon Heritage Society's Museum on Bank Road where you will also find lots of local pictures, stories and artifacts.

The Vashon Heritage Society
.